A perfect storm: Covid-19 viral vector manufacturing adds additional burden to CAR-T development
Covid-19 viral vector Vaccine manufacturing has put further pressure on the already stretched chimeric antigen receptor (CAR) T-cell therapy industry in the form of greater demand for key reagents, experts say. They have also seen a shortage of other important materials such as plastic that are part of the production. Despite improvements in the industry, the pandemic continues to affect the development of the sector.
The lack of labor further increases stress CAR-T manufacturing, where some experts note that the sector is generally understaffed. This can be felt even more strongly by academic institutions, which have seen their talent move towards private actors. These strains have been amplified by the sector's overall growth, experts say.
Viral vectors in high demand
According to Romain de Rauville, Vice President of Business Development at Exothera, a Belgian contract development and production company (CDMO) specializing in viral vector preparation for gene therapies and viral vaccines, there has been a huge increase in the demand for vaccine manufacturing capacity since the beginning of the pandemic on top of an already congested industry. Rauville specifically notes that this increase began in Q2 2020.
According to Fatma Senkensen, CEO of marketing and commercial development, cell and gene at Lonza, the company also received increased demand for viral vectors during the pandemic, including in vaccines. In addition, the pandemic added further fuel to the supply crisis that the industry was feeling, she says.
In this sense, actors in the CAR-T space and in vaccine production are fighting for the capacity of viral vector producers, especially since these capacities are largely the same for adenoviral, lentiviral, and adeno-associated viral vector production, Rauville says. Adeno-associated viral vectors are used to prepare AstraZenecas and Johnson & Johnson's Covid-19 vaccines, as well as for Russia's Sputnik-V and others. Lentiviral vectors are often used in CAR-T production.
The demand for viral vectors used for Covid-19 vaccines has a sense of urgency, Rauville says. While the CDMO selection process can take months, Rauville has encountered companies looking to start work on their Covid-19 programs within several weeks. From the perspective of a CDMO, Rauville mentions the need for flexibility, which enables companies to move their viral vector production quickly.
While such pressure has been reduced since the height of the pandemic, the supply of viral vector is likely to take longer to recover. In fact, according to Matthew Durdy, CEO of Cell and Gen Therapy Catapult, the sector experienced an acute period of extensive material shortages due to vaccine production about a year ago, and the sector is likely to have passed this peak. Rauville says, however, that the demand for viral vectors in Covid-19 vaccines remains, noting that the company has just signed an as yet unannounced agreement to supply vectors for the manufacture of a Covid-19 vaccine.
While the initial impact of the Covid-19-related manufacturing crisis is no longer imminent, Senkensen says she believes there will be more planned and stable growth in demand for such vaccines. Lonza earlier announced its production collaboration for Altimmune's Covid-19 vaccine candidate at its Houston facility in March 2021.
That said, the effect of viral vector-based vaccines is less clear going forward given the availability of messenger ribonucleic acid (mRNA) -based vaccines, says Qasim Rafiq, PhD, Associate Professor of Cell and Gene Therapy Bioprocess Engineering at University College London. Therefore, the effect of these vector-based vaccines is not as great as it could have been, he adds.
Improvements forecasts still few years back
As such, Rafiq notes that improving the supply of viral vectors remains a major challenge following the pandemic. Rafiq says he could see an improvement in the supply of viral vectors within the next two to three years, citing conversations he has had with them in the field. Rafiq mentions companies that are put on three-year waiting lists for access to good manufacturing practice (GMP) viral vectors. Natalia Elizalde, PhD, Business Development Director at VIVEBiotech, a CDMO specializing in lentiviral vector production, says there has been a clear increase in the demand for viral vectors in the CAR-T sector. This has led the company to focus on expanding its capacity to meet such demand, she says.
In addition to reagents, deficiency due to Covid-19 has also affected the supply of recombinant cytokines required for T cell expansion, according to Rauville and Patrick Hanley, PhD, director of the Cellular Therapy Program at Children's National Hospital in Washington DC. Specifically, the cytokine stock has been affected by greater shortages of plastics used in its production, he adds. The lack of materials such as plastic can last for the next 12 to 18 months, says Rafiq, referring to talks with suppliers.
There was a shortage of labor throughout the sector
In the end, there are too few workers skilled to operate the facilities used in CAR-T production, Durdy says. Although Hanley mentions among other factors having a technician who is retiring for the development of Covid-19 vaccines, it is still difficult to quantify the effect of Covid-19 on CAR-T labor shortages. Growing the industry will require a scaling of the workforce, says Krishnendu Roy, PhD, director of the Marcus Center for Therapeutic Cell Characterization and Manufacturing at Georgia Tech, Atlanta.
This deficiency is perhaps more pronounced in academic actors. Juliana Dias Alves Pinto, Head of GMP CAR-T Production at the Center for Cell, Gene & Tissue Therapeutics at the Royal Free Hospital in London, UK, saw her team reduced by half due to staff leaving for other options. Seeing increased investment in the CAR-T area resulted in greater competition for talent, especially from commercial players, says Dr. Jerome Ritz, CEO of the Connell-O'Reilly Cell Manipulation Core Facility at the Dana-Farber Cancer Institute.
Free white paper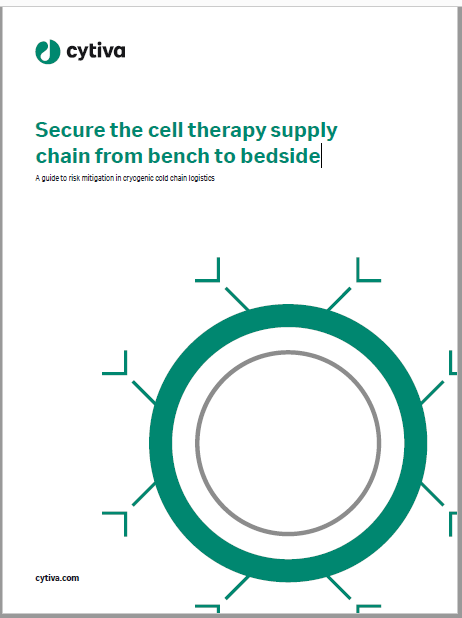 Attach the cell therapy supply chain from bench to bed
The development of cell therapies is changing healthcare and providing new hope to thousands of patients around the world. However, the vein-to-vein workflow for these treatments is not without challenges, many of which will increase as we scale up to treat more patients. Download this free guide from Cytiva to learn more about the challenges and risks associated with the cryogenic supply chain for cell therapies and how supply chain disruptions can best be mitigated.
By clicking the Download Free White Paper button, you accept the terms and conditions and acknowledge that your data will be used as described in Cytiva Thematic's privacy policy
By downloading this White Paper, you acknowledge that we may share your information with our White Paper partners / sponsors, who may contact you directly with information about their products and services.
Visit our Privacy Policy for more information about our services, how we may use, process and share your personal data, including information about your rights in relation to your personal data, and how you can unsubscribe from future marketing communications. Our services are intended for corporate subscribers and you guarantee that the submitted email address is your corporate email address.