Beijing calls US sanctions against Russian defense sector 'ineffective'; Will India, China, Iran and Turkey give in to Biden's demands?
Russian President Vladimir Putin had visited China to boost the morale of his "dear friend" Xi Jinping at a time when the United States and its allies were boycotting the Winter Olympics in Beijing, citing the communist country's human rights record.
ONE joint declaration released later confirmed their support for each other's foreign policy – including Russia's support for China vis-à-vis Taiwan.
One month later, Beijing has come to the defense of Putin, as the same Western world has hit Russia with a barrage of sanctions after launching a full-scale military operation against Ukraine.
The United States and NATO countries have unequivocally condemned Russia's action and have imposed unprecedented sanctions on its banking system, high-profile individuals and, in particular, on its defense industry.
Although China has consistently called on "all parties" to renounce violence, it has been very vocal in its response to the events unfolding in Ukraine.
According to Chinese analysts, the sanctions are not as effective as the US believes because Russia's defense sector is self-sufficient and not dependent on Western technologies, state-run Global Times reported.
The United States imposes blocking sanctions on 22 Russian defense units
Following Russia's operation in Ukraine # last Thursday, global reactions continue with increasing diplomatic pressure and international threats and sanctions against Russiahttps://t.co/JxpU02yZRK pic.twitter.com/y4hCnN4ChM

– More News Agency (@MehrnewsCom) March 2, 2022
The report further said that Russian equipment deployed in real combat can actually serve as high quality marketing.
China's decision to refrain from condemning Russia in clear words shows that it is taking caution in this matter. Analysts in China have also speculated that the US will not impose sanctions on India under CAATSA because of its backing for the Indo-Pacific policy aimed at maintaining China.
The US State Department's sanctions against 22 Russian companies that manufacture fighter jets, infantry combat vehicles, electronic warfare systems, missiles and unmanned aerial vehicles for the Russian military were announced by the Biden administration earlier this week.
The White House said sanctions would "impose significant costs on Russian arms development and manufacturing companies," according to Defense News.
Russia-China Bonhomie
The warmer ties between Russia and China are based on their common rivalry with the United States and its allies. Both states share close trade, diplomatic and military ties and are currently collaborating on a number of projects, particularly a lunar base that is coming up soon.
Song Zhongping, a Chinese military expert and television analyst, told the Global Times that the latest US sanctions will not be detrimental to Russia. He explained that the Russian defense industry is self-sufficient and that the majority of its weapons do not use Western technologies.
He further argued that if the sanctions increase the cost of weapons and equipment, it will be due to inflation and Russia will be able to overcome the economic sanctions it faces.
The US Congressional Research Service had previously stated that Russia is the world's second largest arms exporter after the United States, with annual sales of more than $ 13 billion.
According to reports, a source in the U.S. State Department informed lawmakers that Russia will not be able to make new sales or provide maintenance to customers on current systems.
Exports of weapons and military equipment are a major source of revenue for Russia, and while targeting this sector could hurt the country, Chinese analysts say it is easier said than done.
However, no Chinese source has so far said whether there are plans to replace Western military component aid to Russia. The reason for a silence about helping the Russian defense industry could be the moral dilemma facing China.
China said "We will monitor the situation and urge all parties to exercise restraint, avoid escalation and ensure the safety of relevant nuclear installations" after a fire broke out at a nuclear facility in Ukraine on 4 March.
China, for its part, has made sure to take a few steps aimed at signaling its opposition to violence. For example, China-based AIIB recently frozen lending to Russia and Belarus over the Ukraine War. On the other hand, its state media has been relentless broadcasts Russian propagandaunlike other countries.
India, Turkey and Iran are the primary buyers of Russian weapons. India and Iran, with the exception of Turkey, a NATO member, are not under US influence, according to the analyst. "Since Iran was shut down by SWIFT, its military trade with Russia must have been paid for in other, non-US controlled ways," the analyst concluded.
Some observers have noted that the expulsion of more than a dozen Russian banks from the global SWIFT payment system could actually provide leverage to its Chinese equivalent, the Cross Border Interbank Payment System (CIPS), although lacks capacity to replace SWIFT completely.
Most of Russia's weapons are exported to five countries: Algeria, China, Egypt, India and Vietnam. India has traditionally used Russian weapons. It has recently acquired the S-400 auxiliary defense system and signed a major agreement with Moscow to co-produce AK-203 rifles in India.
In addition, an Indo-Russia joint venture is already in place for the development of BrahMos, which is considered the world's fastest supersonic cruise missile.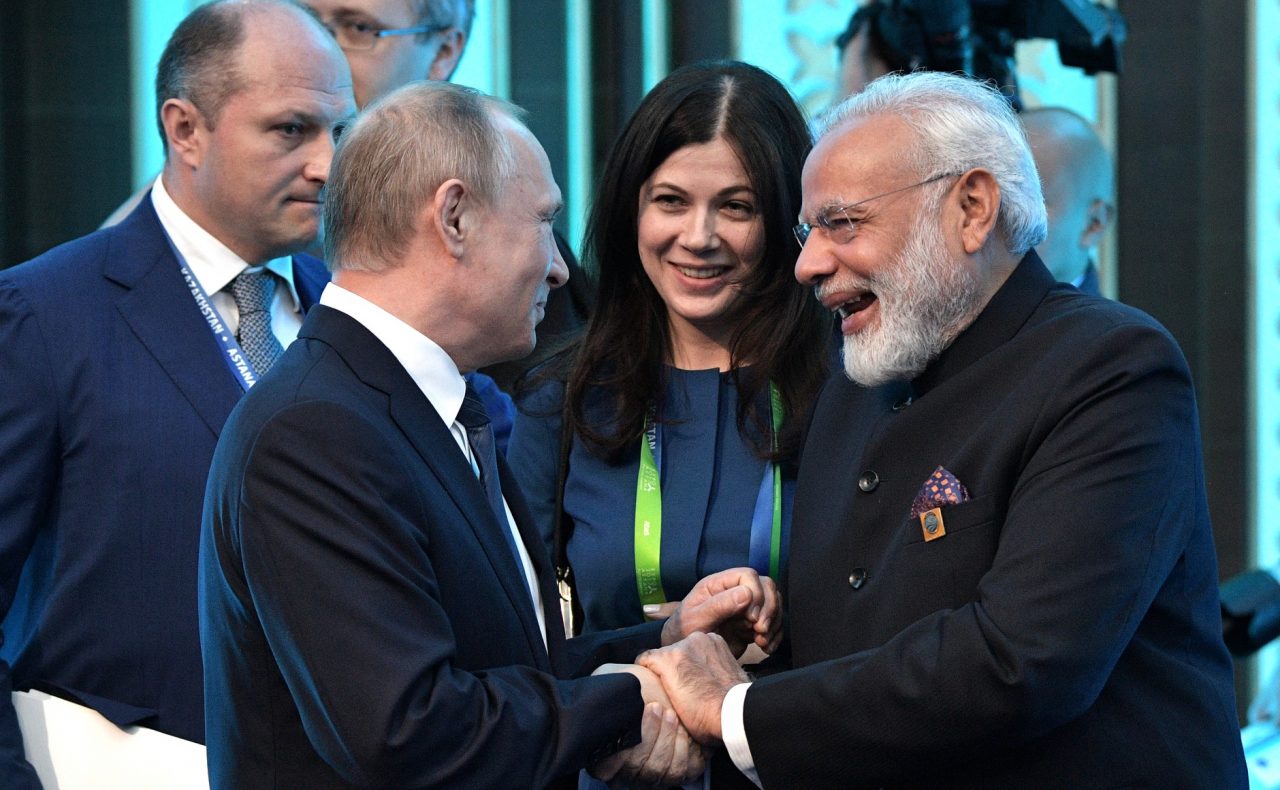 India and China in particular were among the countries that abstained from voting on the UN resolution against Russia on the Ukraine invasion.
States that will not turn against Russia
UN General Assembly recently adopted a decision Condemns Russia's "aggression against Ukraine" and calls on Moscow to remove its forces and put an end to the war. The action was aimed at isolating Russia diplomatically.
About 141 of the 193 members of UNGA voted in favor of the resolution, while 35 countries abstained, including India and China, and four countries – Belarus, Eritrea, North Korea and Syria, which explicitly supported Russia's position.
Even when India's decision to abstain caused unrest among its Western partners, who had called on the country to take one side, China's move was seen as its covert support for Moscow. A US official later claimed that India had annulled a military agreement with Russia.
However, another partner from the United States in the Middle East, the UAE, also joined India and China in abstaining.
Belarus, which is the only ally of Moscow in the region, has been used as a launching pad for invading Russian troops. Russia gathered its troops and weapons at the Belarusian border with Ukraine days before the military operation was launched.
In addition, NATO allies had previously accused Belarus of produces a migrant crisis to Poland at the request of Russia. It is only natural that Belarus, led by a Russian-backed dictator, should vote against the resolution.
The crisis in Ukraine is blamed on North Korea as a result "hegemonic policies" and "high-handedness" of the United States and the West.
The country's foreign ministry declared the West guilty of "abuse of power". North Korea is still embroiled in a conflict with the United States and its allies and has been sanctioned by them for building nuclear-based missiles.
Its contempt for the United States makes it a natural supporter of Russia. In addition, Russia has called on the United Nations to lift sanctions on Pyongyang.
While Eritrea has remained relatively silent on the issue, as it does in most international issues, Syria has reportedly blamed the violence for the US-led NATO military alliance's expansion to the east. It is noteworthy that Russia is an important ally of Bashar al Assad's government and has turned the tide of war in favor of the government.
The world is currently highly polarized on the issue of condemning Russia. On the one hand, there are countries that remain opposed to its actions in Ukraine despite the fact that their own interests are at stake, on the other hand, there are those who support Russia by virtue of common ideas or their dependence on Moscow, and then there are those who can not take sides.