China's largest destroyer 'goes hunting' in the Yellow Sea, media call it the 2nd most powerful warship after the US Navy's Zumwalt
Lhasa, a type 055 stealth-guided missile destroyer – the largest and most advanced warship in the People's Liberation Army Navy (PLAN) – was seen leading three Type 056A corvettes in a three-day military exercise in the Yellow Sea.
State television company CCTV reported on 15 May that the exercise included air defense, anti-ship and anti-submarine exercises, while there were also some other types of surface warships, submarines, warning aircraft and helicopters participating in the exercise.
Type 055 Destroyer vs Zumwalt
Lhasa was declared ready for battle in January, and it is PLAN's second Type 055 warship. With a displacement of 12,000 tons, the Chinese media have called it is the second most powerful destroyer in the world after the USS Zumwalt (DDG-1000).
Zumwalt is the most in the world technologically advanced destroyer, with 15,000 dominant ton displacement. Its unique "Tumblehome" hull and superstructure – where the sides slope inwards – and an angular shape significantly reduce cross-section and acoustic output, which can make the ship as insidious as a fishing boat and quieter than a small submarine.
Meanwhile, in terms of stealth, the Type 055 has an enclosed front deck, mainmast and bow, where the latter hides the anchor and other equipment. However, its hull and superstructure are quite conventional.
Zumwalt has 80 Vertical Launch System (VLS) cells capable of firing Tomahawk, Evolved Sea Sparrow and other guided missiles, while Type 055 has 112 VLS cells capable of firing HHQ-9 surface-to-air missiles, YJ-18 anti- ship cruise missiles, CJ-10 land attack cruise missiles and missile-fired anti-submarine torpedoes.
This is because the American destroyer is more of a land attack ship designed to be deployed close to enemy shores and fire its large 155mm cannons like old battleships.
The Type 055 destroyers, on the other hand, are designed for air defense, anti-submarine missions, and airline protection. These mission sets, combined with their large size, are the reason why the US Department of Defense's annual Chinese military force report has even classified Type 055 as a 'cruiser'.
Type 056A Corvette For Near Seas Defense
Type 056 / 056A corvettes have been designed and built for patrol and escort operations in China's exclusive economic zones within 200 nautical miles of the Chinese coastline. Type 056A is equipped with sonar with variable depth to detect and track submarines.
In addition, the cockpit of the Type 056A variant allows the operation of a Harbin Z-9 military helicopter, specially equipped for ASW missions.
China launched eight Type 055 destroyers between 2017 and 2020 and over 70 Type 056 and 056A warships in the last decade.
CCTV said the last three-day exercises were charged by testing common operational capabilities between different types of warships under a complex electromagnetic environment.
"Joint exercises between Type 055 and Type 056A can be very complicated and challenging due to the involvement of many new technologies and tactics in modern naval combat," explained Zhou Chenming, a researcher at Yuan Wang Military Science and Technology Think Tank.
The design and purposes of Type 056 are primarily focused on middle-class greenwater missions and coastal missions rather than blue-water or high-sea combat operations that Type 055 can perform.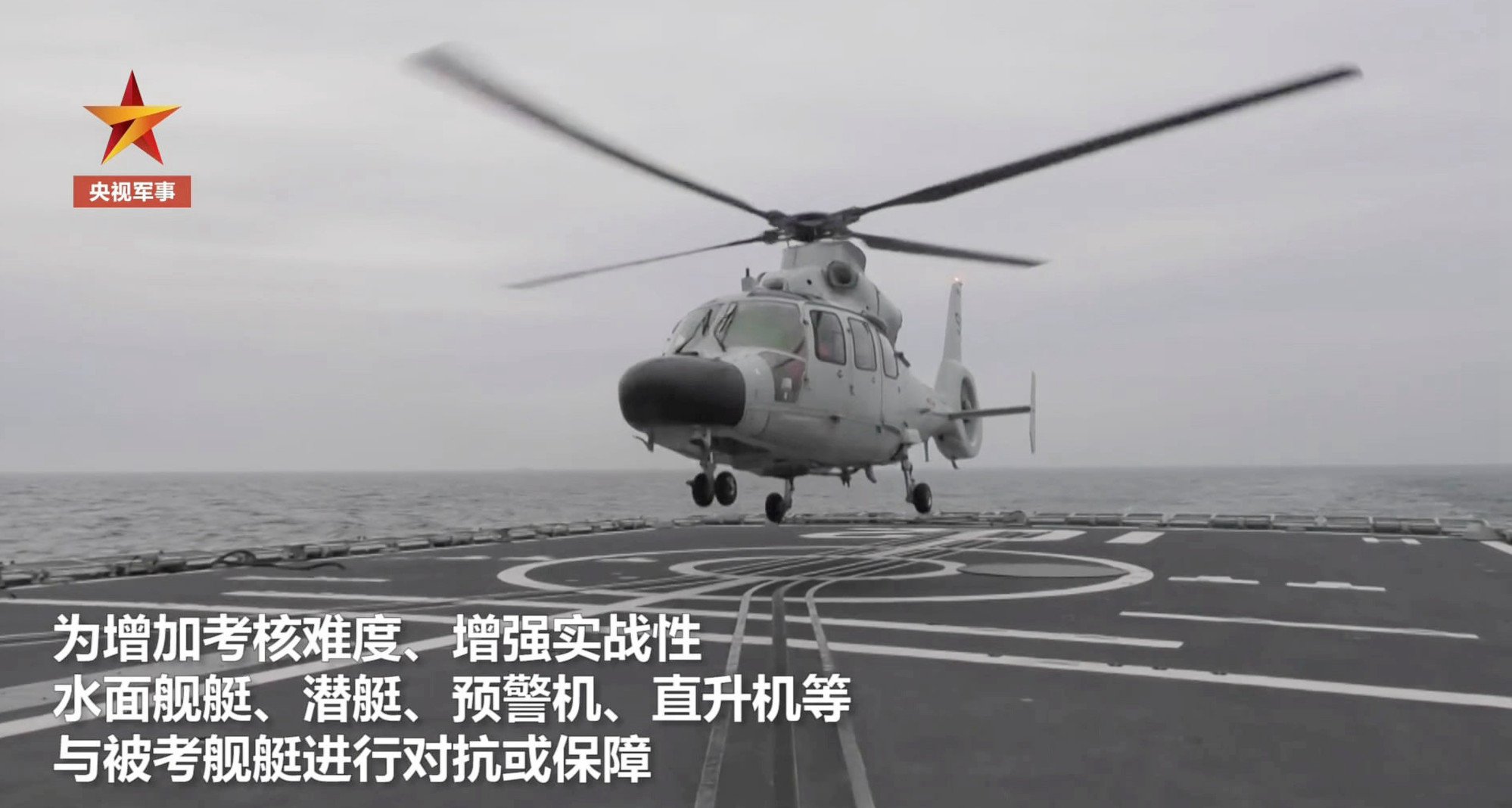 Since last year, however, PLAN has sent the smaller ships to high-altitude exercises under the support of a massive supply ship to improve its naval combat readiness, noted Macau-based military observer Antony Wong.
"Type 056 is too small and can not sail too far due to its limited fuel, but the three Type 056A corvettes have been able to sail over 6,700 nautical miles using a Type 903 supply ship," Wong said.
Chinese exercises
According to Lu Li-Shih, a former instructor at Taiwan's Naval Academy in Kaoshiung, the use of a huge and advanced warship with relatively inferior and smaller exercises could have been aimed at simulating combat scenarios with less powerful navies in the region.
"Interestingly enough, the training group put together the biggest destroyer and small corvettes, and I think the PLA has a specific purpose [behind it]said Lu.
"I suspect the PLA is trying to use Type 056A to train Type 055 in potential confrontations with other small counterparts in the eastern and southern Chinese seas, including Taiwan, Vietnam and the Philippines, which have small warships similar to the Chinese corvettes."
The Yellow Sea exercises followed the exercise in the Western Pacific by an unusually large PLAN attack group led by China's first aircraft carrier, Liaoning, amid rising tensions over Taiwan with the United States and Japan.
The Japanese Ministry of Defense said fighter jets and helicopters on Liaoning made more than 100 takeoffs and landings over the course of six days near Okinawa last week.