Coronavirus

"The cases are still leveling off, rather than disappearing."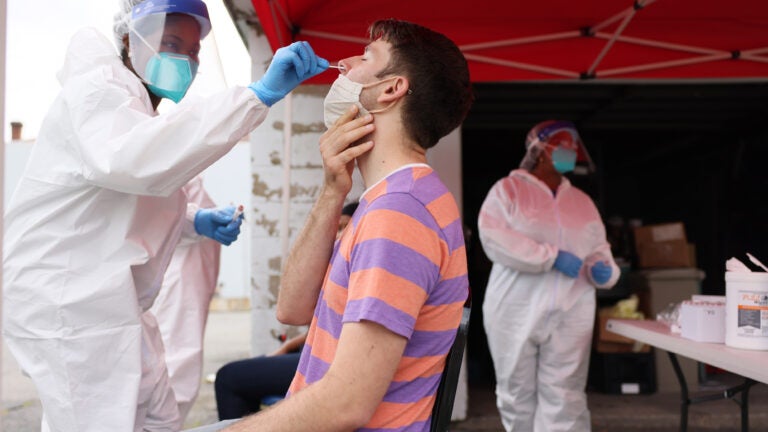 COVID-19 infection rates in Massachusetts have risen again.
After a two-month dip in the delta-driven surge this summer, the state's positive test rate has risen incrementally from less than 1.7 percent over the past two weeks to a seven-day average of 2.15 percent.
According to data released Thursday ahead of Veterans Day, the state averaged 1,174 new cases per day in the past week. By comparison, Massachusetts had an average of fewer than 100 new cases per day at the start of the summer for nearly a month after the introduction of the COVID-19 vaccine.
Hospital admissions from COVID-19, which have generally lagged infection rate trends, have continued to decline in Massachusetts since they topped 700 in mid-September, the highest level since April, according to state data.
By Wednesday, Massachusetts had hospitalized 527 patients due to COVID-19.
Wastewater samples from the Boston area, which can predict future COVID-19 rates, have also continued their choppy but flat trend since the summer, which some infectious disease experts believe could be a sign of virus stabilization .
Still, it was early November when the COVID-19 numbers began to climb ahead of last winter's surge, albeit at a time when no one was vaccinated — but also when rules were imposed statewide requiring masks indoors, restricting gatherings. and required companies to adhere to safety guidelines were in place.
dr. Bill Hanage, a professor of epidemiology at Harvard's TH Chan School of Public Health, said Friday at an NPR forum that people "should be aware" of the "relatively high consequences" that can come from increasing infections, such as effects on the health system's ability to address a "care gap" created during the pandemic.
"Relatively small shifts can have relatively large effects," Hanage said.
"We have a great deal of immunity to previous infections, we have a lot of vaccinations, and in case you haven't noticed, the cases are still stabilizing rather than disappearing," he said of Massachusetts.
With the holidays approaching, said Dr. Ashish Jha, the dean of Brown University's School of Public Health, said the general trends should be reason enough for the federal official to qualify all adults for COVID-19 boosters (which are already available for a wide range of of groups) to address the declining effectiveness of the vaccines over time.
Massachusetts isn't alone either. While the national delta's rise has slowed, about half of all states — including all of New England — have seen COVID-19 rates rise in the past two weeks, according to The New York Times. New Hampshire has seen the biggest jump in infections per capita — up 91 percent in the past two weeks.
Nevertheless, the region remains relatively well positioned due to the high vaccination coverage.
Massachusetts, Connecticut, Rhode Island and Vermont — which are among the top five states with the highest vaccination rates — remain among the 10 states with the lowest hospitalization rates in the country. All four, as well as Maine, have more than 70 percent of their population fully vaccinated (New Hampshire ranks 11th in the country with 63 percent).
The administration of Governor Charlie Baker acknowledges the fact that more than 90 percent of adults in Massachusetts have received at least one dose for the state with "one of the lowest hospitalization rates in the country."
"To date, nearly 4.8 million Commonwealth residents have been fully vaccinated against COVID-19, and the Baker-Polito Administration continues to encourage everyone to get vaccinated as it remains the best way to protect yourself and your loved ones." A spokesman for the state office of health and human services told Boston.com in a statement Friday, noting that vaccines, including boosters, are available at more than 1,000 locations in Massachusetts.
To date, more than 730,000 people in Massachusetts have received booster vaccinations, and more than 25,000 children in the state have received their first dose of Pfizer's pediatric vaccine during their first week of eligibility.
During the national delta wave, Hanage noted that states with lower vaccination rates among older adults generally had higher death rates from COVID-19.
That doesn't mean vaccinated adults are completely immune.
According to state data, more than half of new cases in Massachusetts in the past two weeks were among residents ages 20 to 59. And in the week of October 31 to November 6, nearly 48 percent of the 9,660 positive COVID-19 tests in Massachusetts were among fully vaccinated individuals. As of Nov. 6, 58,807 — or 1.2 percent — of Massachusetts' 4,753,520 fully vaccinated residents had reported a breakthrough infection.
Still, the risk of death for vaccinated individuals is 11 times lower compared to unvaccinated individuals, although federal officials are urging people over age 65 or with underlying health conditions to get a booster shot.
Since the start of the pandemic, 468 fully vaccinated people in Massachusetts — or 0.01 percent — have died from the virus; their median age was 81.2 years old, and 73 percent had underlying conditions, officials say.
Between October 17 and October 30, more than 90 percent of deaths in Massachusetts from COVID-19 were among residents over the age of 60 (and 60 percent were over 80). Hanage said on Friday that officials "must remember that we have other weapons in our arsenal" to protect older individuals, such as deploying rapid tests in nursing homes.
"We're not out of the woods yet," Hanage said. "Even if we're in a less wooded part of the forest, we're not out of the woods yet."
Subscribe to newsletter
Stay up to date with all the latest news from Boston.com