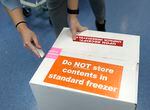 Multnomah County's first 4,500 COVID-19 vaccines for younger children arrived in Portland on Tuesday morning as the US rolls out the next phase of its mass vaccination campaign.
The FedEx shipment of vaccines, delivered in insulating foam boxes packed with dry ice to keep doses ultra-cold, was less than the 10,000 doses Multnomah County Public Health had requested, but more shipments are expected in the coming weeks.
The county's first doses will be allocated through a county public health program, some of which target clinics serving people of color or targeting communities facing barriers to vaccination, such as language and work schedules.
In an online session on Tuesday, the Oregon Health Authority State Health Officer Dr. Dean Sidelinger questions about the vaccine for children ages 5-11.
"According to our estimates, about 330,000 young people in that age group are now eligible for a COVID-19 vaccine," Sidelinger said. "This is welcome news for younger children and their parents as it gives more people the opportunity to protect themselves and their loved ones from COVID-19."
Sidelinger said pediatric cases accounted for 15% of all cases, and Oregon's pediatric cases were highest in recent months.
"Live vaccines are recommended for these younger children between the ages of 5 and 11," Sidelinger said. "Our recent pediatric cases are highest in that age group."
Sidelinger says side effects in children were rare and mild during studies.
"In the clinical trial, reactions were mild, self-limiting, comparable to those seen in adolescents and adults and to other vaccines routinely recommended for children," Sidelinger said. "And they were less common in those 5-11 than older children and adults between 16 and 25 years old."
The Oregon Health Authority encourages people who want to make appointments for younger children, who recently received access to the Pfizer vaccine, to find clinics and other opportunities through the Get Vaccinated Oregon website.
The journey of these vaccine doses for young children from the manufacturer to the clinic was closely monitored along the way. Shipments are full of tracking devices that follow the journey.
When the boxes are unpacked and placed in the ultra-cold storage needed to maintain their effectiveness, officials turn off the tracking equipment and analyze their data to ensure the vaccines are adequately stored and safe for use.