Coronavirus

"We are in a very urgent situation in Boston."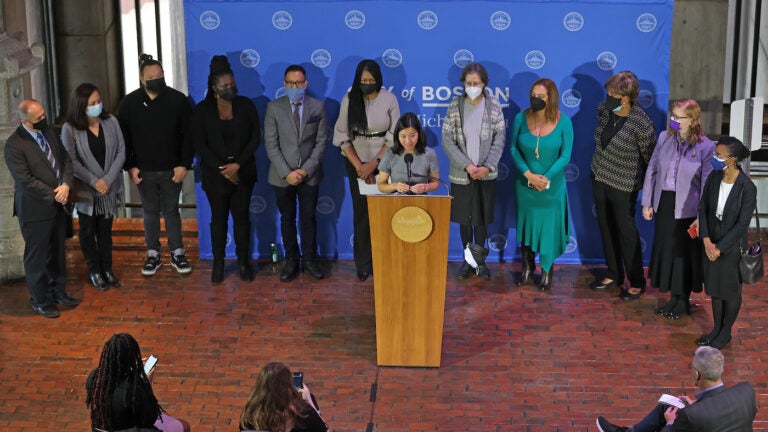 A BU researcher wants officials to approach COVID peaks as 'severe weather'. This is why.


Mass. reports 11,199 new COVID-19 cases, 26 new deaths over 3 days

COVID-19 cases in Boston are on the rise again, with positive tests up 15 percent and hospitalizations up 28 percent in the past two weeks as the city settles into the expected virus winter wave.
"COVID-19 cases and hospitalizations are on the rise, while vaccination lags behind some of our most vulnerable populations," said Dr. Bisola Ojikutu, executive director of the Boston Public Health Commission, told reporters during a press conference at City Hall on Monday. "To address this threat, Boston is focusing on four key strategies: increasing access to vaccination and boosters, increasing testing, improving health communication, and doubling down on prevention."
So are the four pillars of the city's approach, as it works to fend off the growing number of cases, especially with the ommicron variant of the virus now looming in Massachusetts.
"Robust immunologic and clinical data are not yet available to provide conclusive evidence whether omicron will be more transmissible, cause more serious disease, or circumvent the protection afforded by our current vaccines," Ojikutu said. "But we do have some concerns."
As part of the city's response to the ever-evolving virus, Mayor Michelle Wu also announced Monday the creation of the COVID-19 Advisory Committee, a 17-member group of public health professionals and leaders from all sectors, from the private sector. sector to the arts.
Together, the members will advise Wu's government as officials will "take every possible measure to end the pandemic," Wu said.
"We are now entering the third year of this public health emergency with new variants all the time, and it is clear that we need leadership from every sector to help us address this public health crisis with immediate steps," the statement said. mayor.
As of Nov. 30, the city was seeing an average of 191.6 new cases per day — significantly higher than the BPHC's target of 67.9 cases or fewer, but still well below the "threshold of concern" of 339.7 daily cases, according to the BPHC.
The city's total number of cases was 88,990 on Monday.
Boston also saw an average of 137.9 hospitalizations per day with adult patients suffering from COVID symptoms as of Dec. The threshold of the BPHC is 200 per day.
Ojikutu said about two-thirds of those hospitalized are unvaccinated.
Here's how the city is fighting the virus during the winter wave:
Boston hands out 20,000 free home COVID test kits
Ojikutu said the city needs to do more to increase the accessibility of testing in Boston's worst-affected communities, so it announced that the city will provide 20,000 rapid home antigen testing kits for free in high-risk neighborhoods where barriers to buying kits exist. stay high.
"Each kit will contain information about what to do if you test positive and ask you to contact the Infectious Disease Bureau of the commission to report your positivity and receive additional instructions," she said.
Officials will also hand out face masks.
City to hold 'higher capacity' vaccine clinics
According to Ojikutu, the City of Boston is expanding access to COVID-19 vaccines by opening several "higher capacity" clinics intended to vaccinate more people at once and complementing the services provided at the seven existing walk-in clinics being developed. sponsored by the city.
Four of the clinics will be held on December 11, December 18 and on two unannounced Saturdays in January.
"The first of these larger capacity clinics will be held at the Vine Street Community Center in Roxbury. We are also setting up a site here at City Hall on Thursdays from 10 a.m. to 5 p.m.," Ojikutu said.
"We will be announcing additional locations throughout the week and for more information, call 311 or visit boston.gov," she added.
Through a partnership with Boston Medical Center, Massachusetts General Hospital and Tufts Medical Center, students at Boston Public Schools and their families will also have increased access to clinics in schools in December and January, said Ojikutu.
"In addition, the committee provides dedicated clinical leadership through Dr. Sarimer Sánchez, director of our Infectious Disease Bureau," she said. "She will essentially be assigned to BPS to work on understanding and developing new policies related to the containment of COVID-19 in our schools and scaling the school vaccination program."
Ojikutu also said the city is "again doubling" its efforts to release more information about vaccines and booster shots.
Wu says 'everything will come to the table' as Boston considers for next steps
On Monday, New York City Mayor Bill de Blasio announced that his city will require private sector employers to issue vaccine mandates to their employees — a first in the nation to fight the virus.
Asked about that decision, Wu, who said Boston should consider an indoor vaccine mandate, said the new advisory group will consider several possible next steps.
"We are in a very urgent situation in Boston and so everything needs to be on the table," Wu said. "I think we are seeing the actions of our partner and sister cities that reflect how much action we all need to take.
"Omicron will unfortunately not be the last variant we see, and our responsibility in city government now is to look at the data, bring together the wisdom across all sectors in our community and make sure we follow the best recommendations available. of our community members and act quickly," she added.
Subscribe to newsletter
Stay up to date with all the latest news from Boston.com