NFL

"Far be it from me to tell anyone what to put in their bodies."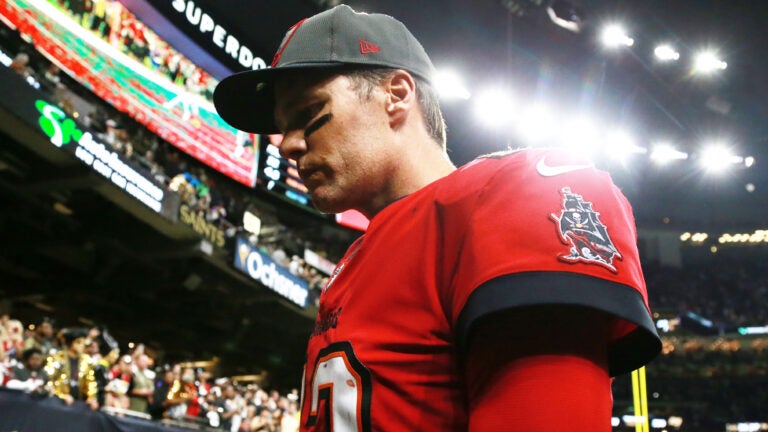 A rotating cast of contributors is a great sign for the defense of Belichick


Mac Jones responds to Panthers calling him dirty: 'I thought he had the ball'

Tom Brady has been remarkably more interesting in his comments to the media since he left the Patriots, especially when it comes to bashing rule changes or how football is played today.
But he still knows a minefield when he sees one. So when Brady got a question from his "Let's Go!" podcast co-host Jim Gray on Packer's quarterback Aaron Rodgers' interview last week about the COVID-19 vaccine, the 44-year veteran's elite pocket movement was on full display.
"I'm not commenting on Aaron Rodgers' personal situation," he said. "Far be it from me to tell anyone what to put in their bodies."
Of course he added a plug for the TB12 method so it can tell you what he stops in his body. But as he told Gray moments later on the podcast, "That's all I'm going to say."
And yet it feels like Brady's actions hold out stronger than his words when it comes to Rodgers and the debate over the NFL's vaccination protocols.
Unlike Rodgers, who missed last week's game after testing positive for COVID-19, Brady has reportedly been vaccinated. He hasn't confirmed that himself, of course, but he's part of a Buccaneers team that touts itself as 100 percent vaccinated.
If there's one thing you should know about Brady, it's that he will do little to stay one step ahead of his opponents, even COVID-19. He reportedly stressed his teammates last year to keep up with the league's COVID protocols en route to the Bucs' Super Bowl title, and the fact that he was vaccinated may have encouraged vaccine holders like Leonard Fournette to get involved. to join the herd.
He has previously said the coronavirus would continue to be an issue for the NFL for the foreseeable future and continued on those thoughts in the podcast, calling COVID-19 "part of our society" now.
"I think everyone is dealing with it the best they can and trying to take as many precautions as possible," he added. "The coaches have dropped out. Players have dropped out. Executives have been out. We test every week and we try to prevent its spread. We have missed some players this year. Other teams have missed some players this year. I hope that everyone stays safe. I think that's the most important thing in all of this."
If you're a fan of reading between the lines, Brady's admission that he undergoes tests weekly, rather than daily, suggests that he and his teammates are, in fact, fully vaccinated according to the NFL's protocols.
Meanwhile, had Rodgers been vaccinated, he would have had a chance to play against the Chiefs on Sunday if he tested negative twice in a 24-hour period before the game. But he wasn't, and his team lost 13-7 to a trailing Chiefs squad.
Tom Brady won't let Father Time beat him. Why do you think he would let COVID-19 do it?
Sign up for Patriots updates🏈
Receive the latest news and analysis during the football season in your inbox.