Latest COVID-19 data from VDH –
AP
RICHMOND, Va. (CBS19 NEWS) – The Virginia Department of Health reports that there have been 1,656,187 total confirmed and probable cases of COVID-19 in the Commonwealth as of March 15th.
Of these cases, 1,182,581 are confirmed positive cases, while 473,606 are considered probable cases, meaning that there is no test result yet or that the person meets the criteria to be linked to a positive case.
On Tuesday, 1,294 new cases were reported.
There have also been 16,075 confirmed COVID-related deaths and a further 3,281 likely since the start of the 2020 pandemic.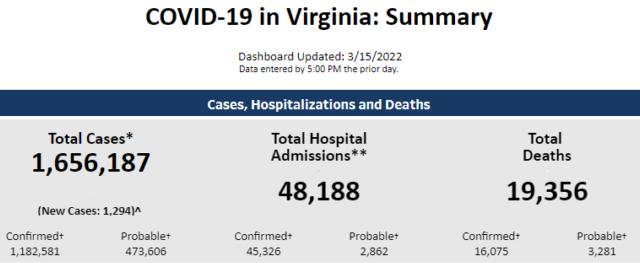 The first positive case of COVID-19 was confirmed in Virginia on March 7, 2020.
Vaccines to help protect people from serious illness from the virus have now been available for more than a year, and anyone who is at least five years old is eligible to be vaccinated.
VDH reports that 6,967,676 people have received at least one dose of a COVID-19 vaccine in Virginia per March 15th. This means that 81.1 percent of Virginia's eligible population has received at least one dose.
There are 6,210,565 individuals who are considered fully vaccinated, meaning they have received both doses of one of the mRNA vaccines or one dose of the Johnson and Johnson single-shot vaccine. VDH says 72.3 percent of the Commonwealth's population is considered fully vaccinated under this definition.
The health department also reports that 2,850,666 people have received a booster shot or third dose.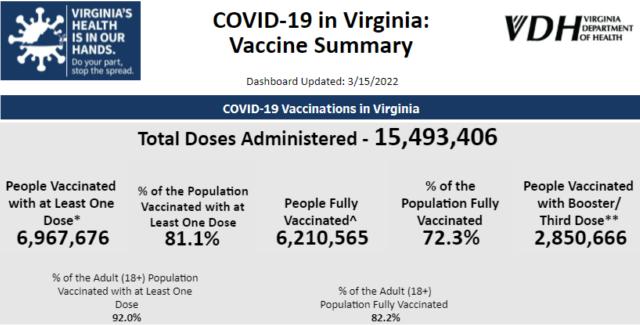 VDH says the seven-day average number of new cases reported each day is 989. The state's current record for the highest number of new cases reported in a single day was set on Jan. 8 at 26,175.
People vaccinated against COVID-19 may still develop symptoms, but they tend to be mild and hospitalization is not required.
Hospitals reported in January that most cases of COVID-19 they treated were in people who are unvaccinated.
Former Gov. Ralph Northam issued a limited state of emergency on Jan. 10 to help ease the strain faced by hospitals and healthcare professionals in light of an increase in cases linked to the Omicron variant.
On January 15, the new governor Glenn Youngkin signed an executive order canceling a mask mandate for public schools, saying the decision lies with the parents. Some school departments will continue to require masks for students and staff.
Several area school departments announced decisions regarding mask mandates, with Charlottesville and Albemarle and Nelson counties holding their mandates in place, while Madison, Fluvanna, Greene, Louisa and Orange counties all made masks optional.
From March 1, masking became optional at all public elementary schools throughout Virginia.
As of January 19, people are able to order free COVID-19 test kits from the federal government. These kits will be provided by US Postal Service.
Several lawsuits have been filed regarding Youngkin's ordinance on masks in K-12 public schools.
On February 1, Pfizer asked the US Food and Drug Administration to approve a version of its vaccine for children under five. The approval process is expected to take at least four weeks.
On Feb. 4, a judge in Arlington County issued a temporary restraining order regarding Youngkin's mask mandates in the schools' ordinance. This ruling applies only to the school departments that filed the lawsuit, including Richmond City Schools.
Another lawsuit regarding mask mandates, filed by parents in Chesapeake, was dismissed on Feb. 7.
On February 14, the general meeting passed a bill concerning mask mandates in schools, which Youngkin signed into law on February 16th. School departments must comply with this law by March 1st.
On February 20, Youngkin signed an executive order extending one of Northam's last orders, regarding flexibility for hospitals, healthcare systems, nursing homes and other healthcare providers struggling with the COVID-19 pandemic. The order, which was originally due to expire on 21 February, will now be valid until 22 March.
On February 28, the University of Virginia Health System announced that it will ease its visitation policies by March 3rd.
The Centers for Disease Control and Prevention reported on March 3 that more than 90 percent of the country's population is in places with low or medium COVID-19 transmission levels. Locally, Charlottesville and the counties of Albemarle and Madison remain at high transmission levels, while all the others are listed on medium.
As of March 7, six million people globally have died with COVID-19, but health authorities believe this is seriously underestimated.
On March 10, the CDC again updated its transmission levels, saying that more than 98 percent of the U.S. population is in areas with low or medium transmission rates.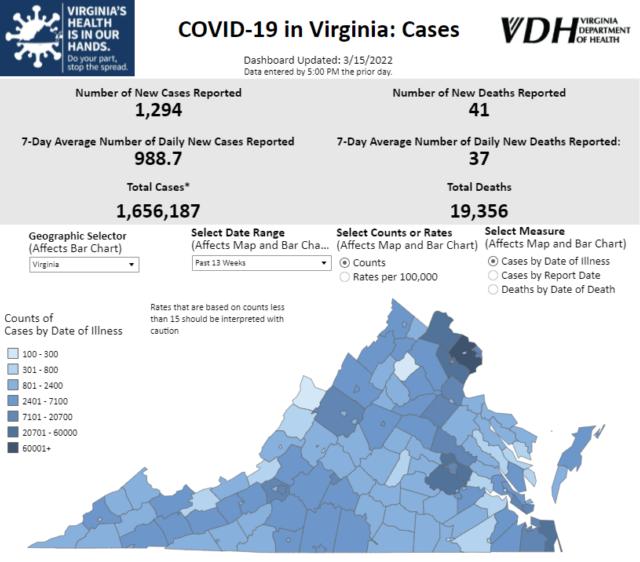 On Tuesday, Albemarle County reported 13 new cases, Charlottesville reported three, Greene County reported one, Madison County reported four and Orange County reported 12.
Louisa and Nelson counties reported no new cases, and Fluvanna County had two cases redistributed to other locations, resulting in a negative new case number for Tuesday.
According to officials from the Blue Ridge and Rappahannock-Rapidan health districts, negative case numbers usually occur when epidemiologists clean up the data to ensure that the case numbers accurately reflect official statistics.
In some cases, test results are assigned to a county based on an address and zip code, but since zip codes can cover multiple counties, individual cases can initially be reported under the wrong location.
As cases are reviewed by individual health districts, some results will be relocated to another site, which can be reported as a negative case in the original site.
Click to see the most up-to-date information here.