magazine
"The climate crisis will not just disappear if Beijing or Washington close the communication channels."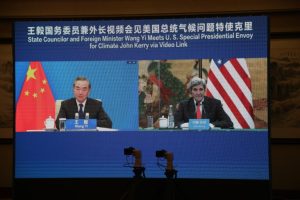 US Special Envoy for Climate Change John Kerry will hold virtual talks with Chinese Foreign Minister Wang Yi on September 1, 2021.
Credit: US State Department
In 2014, a year before the UN climate change conference that would lead to the Paris Agreement, the United States and China made a bilateral climate change announcement. The statement by Chinese President Xi Jinping and then US President Barack Obama paved the way for the current high water mark in global climate cooperation.
Fast forward seven years, though, and a repeat of that partnership seems tenuous amid the strained China-US relationship. Foreign Minister Wang Yi memorably rejected the idea that climate change cooperation could be an "oasis" for bilateral relations, noting that "if the oasis is completely surrounded by deserts, sooner or later the 'oasis' will be destroyed."
Where is China-US cooperation on climate today, and what are the implications for the health of the planet?
In this interview, Li Shuo, senior climate and energy policy officer at Greenpeace East Asia, discusses China's unilateral climate moves and its climate diplomacy, including with the United States. Despite ongoing tensions, Li sees climate change as a bright spot for China's relationship with the world: "Is there a second area where China has taken several major political steps towards better global governance within a decade? Probably not."
US Special Envoy for Climate, John Kerry, has visited China twice in less than a year, with a trip to Shanghai in April and a follow-up visit to Tianjin in September. How have you evaluated his travels and what does that tell us about the broader prospects for China-US cooperation on climate change?
The exchanges between the US and China so far this year have made one point clear to me: when it comes to climate change, engagement is important. The G-2 certainly won't go back to working together during the Xi-Obama period. But that doesn't mean they don't have to intervene. In fact, unlike many other bilateral issues, climate change really cannot afford decoupling. The climate crisis will not just disappear if Beijing or Washington close the communication channels.
Kerry's China travels have demonstrated the value of engagement. The joint statement made in Shanghai resulted in some notable US diplomatic victories. Among them, it marks the first time that the tenet of global climate policy—common but differentiated responsibilities—was not mentioned in a bilateral statement between the US and China. This represents China's growing willingness to take on more climate responsibilities, something the US has always wanted.
The visit to Tianjin did not yield immediate results. But weeks after Kerry's trip, President Xi announced an overseas coal [power project] moratorium at the UNGA [United Nations General Assembly]. Without international involvement, China will be in no rush to cut off a profitable portion of its overseas operations.
One of the prevailing stories in Washington is, "the Chinese are tricking us into a climate talk to make concessions elsewhere." That story couldn't be further from the fact. What exactly has China gotten from the US by announcing an overseas coal moratorium, the ratification of the Kigali amendment (which the US has so far failed to do) and carbon neutrality?
China is taking these step-by-step steps while the US has barely done anything concrete on climate. The world community has learned not to just accept what Washington declares. This is true of Biden's 2030 emissions reduction target and his latest climate finance commitment — all solid on paper, but with a slim chance of actually being fulfilled. China's willingness to make progress on the climate agenda in the face of Washington's chronic "overpromise and underdeliver" syndrome is worth noting. In 20 years, these dynamics will determine which of the G-2 takes further action on climate action.