New COVID-19 cases across counties in southern Oregon with single-digit | News
Salem, OR – COVID-19 cases are on their way down to Oregon. The Oregon Health Authority (OHA) says the number of cases is keeping the state in a pandemic – so far.
Concept "endemic"has been invoked by California Governor Gavin Newsom when he referred to the status of COVID-19. An endemic disease, such as influenza, is always present but does not cause widespread disturbance and death. In addition, seasonal influenza is endemic globally because public health experts can generally predict its behavior.
OHA numbers show COVID-19 cases and hospitalized patients with COVID-19 across Oregon are on the decline. Oregon on Friday reported 189 new confirmed and suspected COVID-19 cases with two new deaths. One week before the OHA registered 289 new cases, and a month earlier, it reported 981 new cases on February 25, 2022.
The OHA's reported 189 new confirmed and suspected cases of COVID-19 on Friday raised the state to a total of 702,750. These new cases include single-digit counts for the following counties in southern Oregon: Curry (1), Jackson (9), Josephine (1), Klamath (2), Lake (2), and Malheur (1): diagrams below.
The OHA reported on Friday 157 admissions of people with COVID-19, four fewer than on Thursday. One week ago Friday, the number was 213, and a month ago, the OHA reported 527 COVID-19-related admissions on February 25th. More OHA information on hospital capacity can be found here.
It also reported that about one-tenth of reported COVID-19 tests in Oregon had positive results:
Samples for 926,652 tests have been reported positive.
Tests for 9.871.209 tests have been reported negative.
OHA's COVID-19 vaccination seven-day moving average on Friday was 2,253 doses a day. It said Friday "3,173,828 people have received at least one dose of a COVID-19 vaccine, and 2,882,119 people have completed a COVID-19 vaccine series. These data are preliminary and subject to change."
Oregon passed 7,000 COVID-19-related deaths last week, reaching 7,035 at 12.01 p.m., Friday.
For the latest data on COVID-19 in Oregon, visit OHA's data dashboards.
The following diagrams show the OHA data for COVID-19 cases January 1, 2022 to March 25, 2022 in Curry, Jackson, Josephine, Klamath, Lake and Malheur Counties, with the brief explanation in the last image.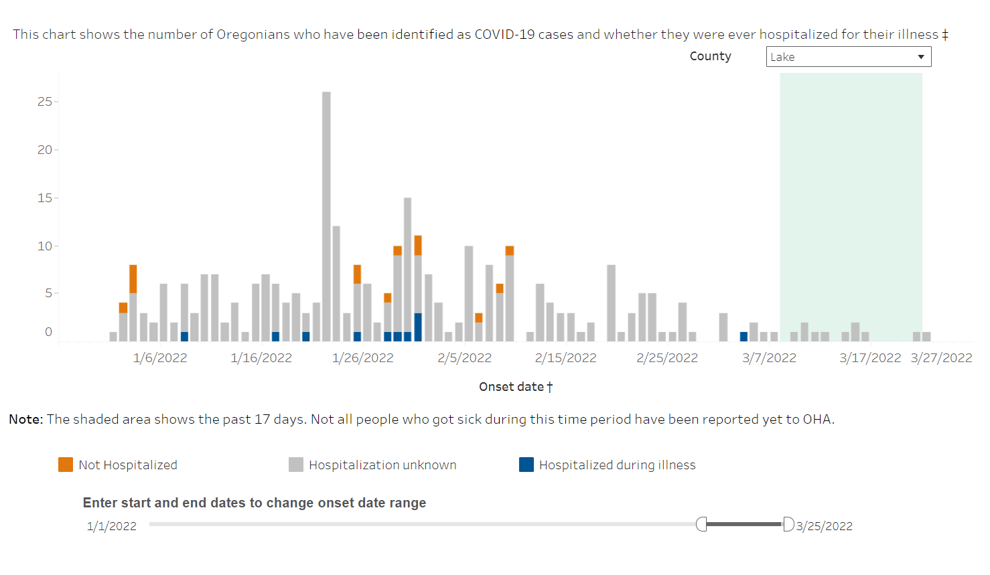 Follow @ KDRV12 on Facebook and @KDRV on Twitter for the latest news, sports and weather in Southern Oregon and Northern California.