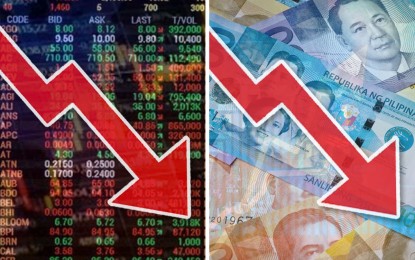 MANILA – Higher-than-expected inflation figures in the US and China worried investors, resulting in the negative closing of both the Philippine Stock Exchange Index (PSEi) and the peso on Thursday.
The main stock index lost 0.60 percent or 44.03 points to 7,331.65 points.
All stocks followed, down 0.29% or 11.63 points to 3,952.90 points.
The majority of sector indices also closed day trading in negative territory, led by Property after falling 1.35 percent.
The mining and oil index fell by 0.64 percent, the industry by 0.56 percent; Finance, 0.54 percent; and Holding Firms, 0.44 percent.
Only the Services index ended on positive territory after ending sideways moving 0.05 percent.
The total volume was 1.02 billion shares amounting to 7.25 billion PHP.
Fallers outperformed the advanced by 97 to 91, while 47 stocks remained unchanged.
"Philippine stocks closed lower after the sell-off due to the higher-than-expected October CPI (Consumer Price Index) of both China and the US," said Luis Limlingan, head of sales at Regina Capital Development Corporation (RCDC).
Citing reports, Limlingan said core inflation in the US is up 4.6 percent, the fastest since 1991, while aggregate consumer prices rose 6.2 percent year-on-year, higher than expected and one of the fastest since the 1990s. .
China's CPI also rose 1.5 percent year-on-year, compared to 0.7 percent in the previous month.
Negative sentiment in the local stock market was also reflected in the foreign exchange market, with the peso closing at 50.165 against the greenback from its 50.069 close a day ago.
It opened the day at 50:18, sideways from the start of the previous session at 50:15.
It traded between 50.24 and 50.13, resulting in an average of 50.188.
Total volume was USD 1.14 billion, higher than the previous day's USD 1.02 billion. (PNA)