School musicals return following lifting of COVID-19 restrictions | Education
SACKETS HARBOR — Students are once again practicing lines, hitting high notes and memorizing choreography as they prepare for their first on-stage, unmasked school musicals since the start of the COVID-19 pandemic. For many, this is a triumphant return to the stages they've so sorely missed.
When the COVID-19 pandemic began in March 2020, shuttering schools nationwide, theater, among many other things, was completely halted. Now, two years later, it is returning in grand fashion with energetic performances from students just happy to be back doing what they love. While some local schools managed to put on virtual performances or masked and socially distanced productions amid the pandemic, this month marks the first time since the pandemic started that student performers can stand on stage with their faces free of coverings, barring costumes, of course.
Unfortunately, the pandemic hit at a time when many schools were either working on or just about ready to perform musicals in 2020. Since then, many gifted actors, singers and dancers have graduated, decimating choral groups and making it harder to cast for upcoming shows with a significantly reduced talent pool. This was the case at Sackets Harbor Central School, which lost a majority of its choir as well as a music teacher during the pandemic.
"We significantly downsized, not by choice," said junior Benjamin D. Bachner, who will play the Cheshire Cat in the school's upcoming production of "Wonderland: Alice's Rock & Roll Adventure."
Luckily, the school gained a new music teacher, Naira Sidi, who is directing the musical. As this is her second year on the job and the first musical she's directed, she said the students involved teach her just as much, if not more, than she teaches them. A few of those students are Benjamin, fellow junior Eric J. Gayne, who plays the Mad Hatter, and sophomore Olivia I. Derouin, who plays Alice. This is an opportunity that has not been afforded to the students the last few years, so they're willing to put in as many hours as it takes to get it right.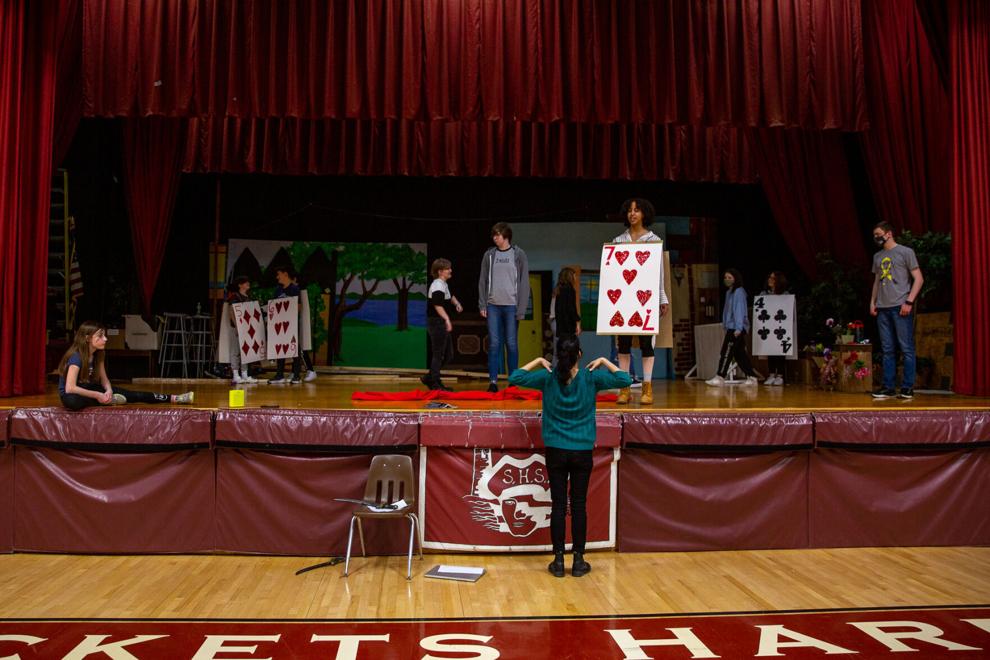 "It's sort of like coming back to life," Eric said about returning to the stage. "That time of where we were just stuck at home experiencing this sort of isolation and now coming back and being around everybody else who enjoys the same thing that we do, being able to express it to the community is just insane to finally get that feeling back."
Benjamin likened coming back to the stage to meeting an old friend and never wanting to leave. The students are even more excited since this is Ms. Sidi's first performance with the school. The new teacher seems to be a big hit among students as a director who allows for input and creativity, but also knows how to maintain order. Students also said she helps them build their confidence.
A performance incorporating a wide range of ages and experience levels, some of the younger performers include sixth grader Zoe N. Harney, 11, who plays the Jabberwocky, and third grader Dinah J. Yangling, 8, who plays Alice's pet cat Dinah. Zoe was in the chorus at her old school, so when she moved to Sackets in the middle of the year, it was only natural to join. She said she is excited for the upcoming show and having her family support her once the curtains close.
"The kids have such a radiant energy," Ms. Sidi said. "The first thing they asked me is, 'Are we doing a musical?' They have all of this excitement that they've just been holding on to, and they're able to release it now."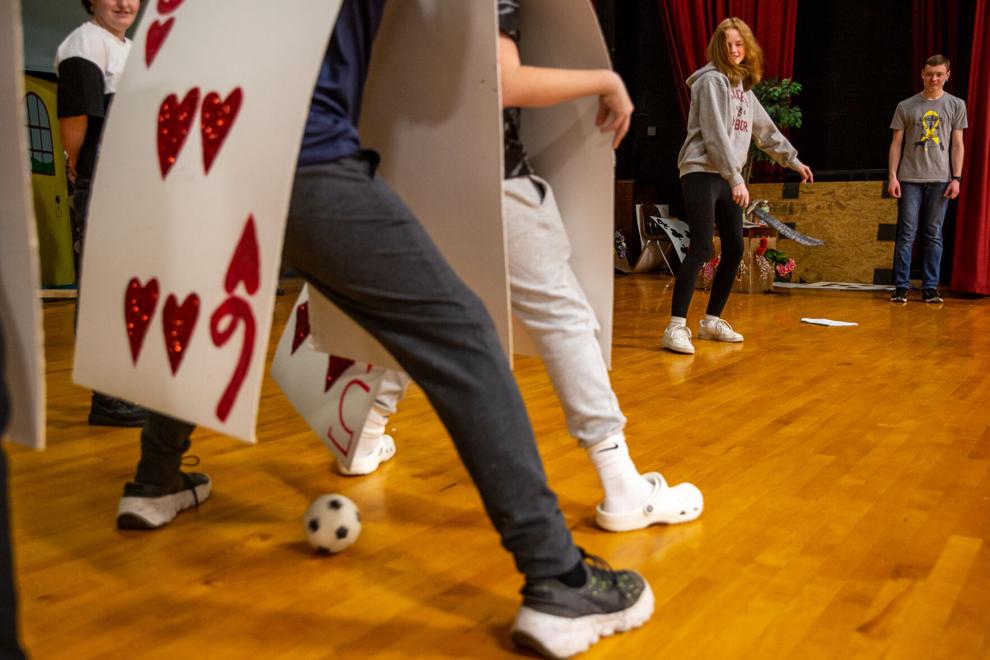 She said Sackets makes use of every dollar and the production has been asking for donations from the community to help offset costs of the production, either in the form of cash and checks, or physical items for props or costumes. Community members are encouraged to reach out to her at [email protected] for further information, and checks may be made to the Sackets Harbor PTO. Performances will take place at 6 p.m. April 1 and 2 p.m. April 2 in the school gymnasium.
This production has 60 Sackets Harbor students involved, and a hope is that it will bring more people to the chorus and the arts at the school, Olivia said, get some people back and perhaps inspire some younger students to join. According to Ms. Sidi, the performance, especially amid the pandemic, has been an expressive outlet for students.
"I always think it's important to have music in your life, and I think it's even more important to take part in it," Eric said. "So no matter who you are, just think about doing something like this because it can impact you more than it impacts other people."
At LaFargeville Central School, a musical performance of a different kind took place over the weekend: "The 25th Annual Putnam County Spelling Bee," directed by French teacher Brianna L. Jaspersohn and music teacher Shelly R. Peck. The show is about growing up and the challenges of adolescence, so Mrs. Jaspersohn said she thought it gave the students a lot to relate to. It also allowed them to actually play children rather than characters much older than themselves.
Last year, the drama department put something together within the restrictions still in place due to COVID-19. They named it "Quaranscenes and Quarantunes," a variety show of scenes and showtunes screened for audiences.
"Our original intent this year was to put on 'Legally Blonde' and then when we had auditions, we had a very small number turn out, only about 10 kids or so," Mrs. Jaspersohn said. "We started researching and thinking we could do with a small number of people and came across 'Putnam County,' and thought, 'This is perfect.' It's a small cast and we can do it with a lot of spacing between our actors, there doesn't have to be a ton of interaction."
This was before the state's mask mandate lifted for schools, making everything just a bit better as students' faces were revealed for the first time in two years. There were 12 students in the cast and two crew members, the smallest group the school has ever had on a production.
"It's going to take a while for everybody to get back into the swing of the activities and everything, but we definitely wanted this year's group of kids to get to do something because they've been waiting a long time," Mrs. Peck said.
The musical involved seventh through 12th grade students, with six of them being seniors. Two of those seniors were veteran performer Vera R. Blackford and newcomer Carrie J. Getman. The show even featured two alumni, Joshua Vaughn and Kaitlyn Sael helping out virtually as a way for them to continue to lend their talents to the LCS stage.
"When COVID shut everything down I was pretty upset because it's like the one thing I look forward to in the droopy winter months," Vera said. An avid dancer, she noted that she was excited to be back performing on stage.
As someone who has never been in a production before, Carrie said it's something she's missed out on in the past few years.
"I didn't realize how fun it was," she said. "I think it's a good opportunity to get out of your comfort zone and to just have a little fun."
Determined to keep theater alive despite a global pandemic, teacher Katie L. Taylor has directed a performance of some kind each year at Alexandria Central School, though "School of Rock," what she dubbed as the "show that never was," had to be closed down on opening night, March 12, 2020. She said they left the whole setup the way it was thinking they'd return to school in just a few weeks and be able to hold the performance then.
That, unfortunately, was not the case, and the set remained until everyone returned to the school in September the following year. During that downtime, much of the cast had left, so it was decided that the show should not go on and sights were set to "Beauty and the Beast" instead.
As "Beauty and the Beast" still couldn't be performed on stage, Mrs. Taylor used a greenscreen, a MacBook Pro and a few programs she'd never used before and did all the audio. She said she recorded the students singing every song one at a time, merged their voices, edited the music, put it all together, and then played the music and had actors lip sync over themselves. She recorded each performance and for scenes that needed to be in a castle, was given permission to shoot in nearby Boldt Castle in Alexandria Bay. The performance was shared with audiences virtually.
This year, there is limited seating, but the school's auditorium is being used for shows once again, and proudly showed a performance of "The Addams Family" over the weekend.
"I don't know what I would do without the parents and stuff," Mrs. Taylor said. "My set was built by two of the stage dads and then my husband came in to help. And a couple of past students of mine came back to help as well."
Because the music was ordered ahead of time, when students returned from winter break in January, many had listened to the music so much that they knew their solos already. With the cast and crew, there was a total of 35 students involved, as well as someone livestreaming the shows.
A surprise to Mrs. Taylor this year came in the form of senior Taiwanese exchange student Tzu Yi Yang, who goes by Eddie. He had never acted or sang on a stage before, but when he auditioned, Mrs. Taylor all but fell out of her seat. She knew she had found her Gomez. After that, the rest of the cast fell easily into place.
"It's pretty exciting, I'm happy to be cast in this role," he said. "There's lots of stress trying to get all the moves and the lines and I didn't really expect to be cast as the lead, so it was a nice surprise. I'm from Taiwan and we don't really have shows like this, so it's really interesting to be in this production."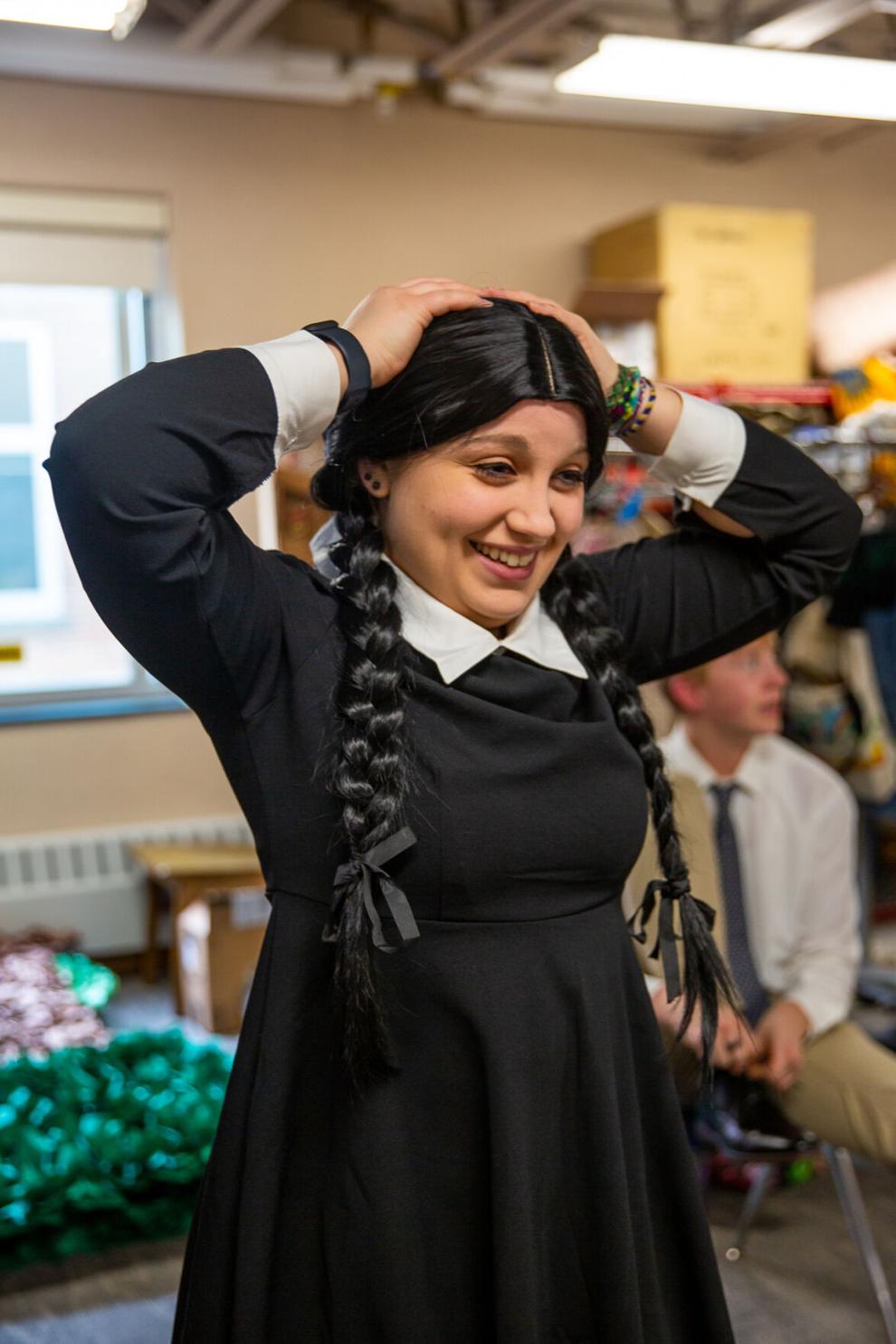 Fellow senior Xandyr N. Brennan, who had all but lost his voice the day before the show opened, said portraying his character, Uncle Fester, felt like him. Having been in several previous productions, he said it was good to be back with a show like "Addams Family" and it was fitting because the cast and crew were like their own big family.
"I'm proud of them, they're all such passionate kids," Mrs. Taylor said. "This is probably one of the most self-motivated groups I've had. They're so excited and happy and grateful to have a show, they're just bending over backwards to do everything they can."
While the Indian River Central School Theater Department's recent performance of "Footloose" was its first major production in two years in which students got to be unmasked, the department did some virtual shows and held an on-stage performance of "She Kills Monsters" in October.
"I thought it went amazing, we had awesome crowds," Kristie L. Farr, Indian River Theater Department chair, said of the performances. "A lot of people were coming back more than once that had only planned to come once — the kids were ecstatic. It was nice to be back, I think the audiences were thrilled to be able to see a live show, and it's really gotten kids excited, they're already begging to do something in the spring."
Since the department had only done virtual productions until "She Kills Monsters," Mrs. Farr said she thinks it took students a little bit of time to get back into the groove. It was a fun journey, she said, adding that there's something to be said about a live audience.
"You do feed off the audience, it gives you energy," she said. "And that's something that kids haven't had in two years. We tried to re-create the best we could in virtual productions, but you don't have a live audience, so you have no idea how people are reacting as they're watching."
She said the No. 1 thing she wanted, which was backed by colleagues and administrators, was to help prevent students from suffering socially and artistically through the pandemic. They continued to do shows and Mrs. Farr continued to educate herself about best practices for virtual productions. Students attended virtual conferences, and the department found new ways to keep students involved in the arts.
"I always say that theater is as important as sports because sports keep kids in school and keep them motivated, and theater and the arts do the same things for just a different group of kids," she said. "So for them to have this all back and ready to go, it's just awesome."
From virtual performances to whet theatrical appetites to long years awaiting a full return to the stage, it's safe to say that performing arts have been missed by many in Jefferson County, and have returned to thunderous applause. During times of great uncertainty and misinformation, the arts remained a beacon of hope for many, and sparked fierce determination to continue performances and appreciation in whatever way possible.
Because the show must go on.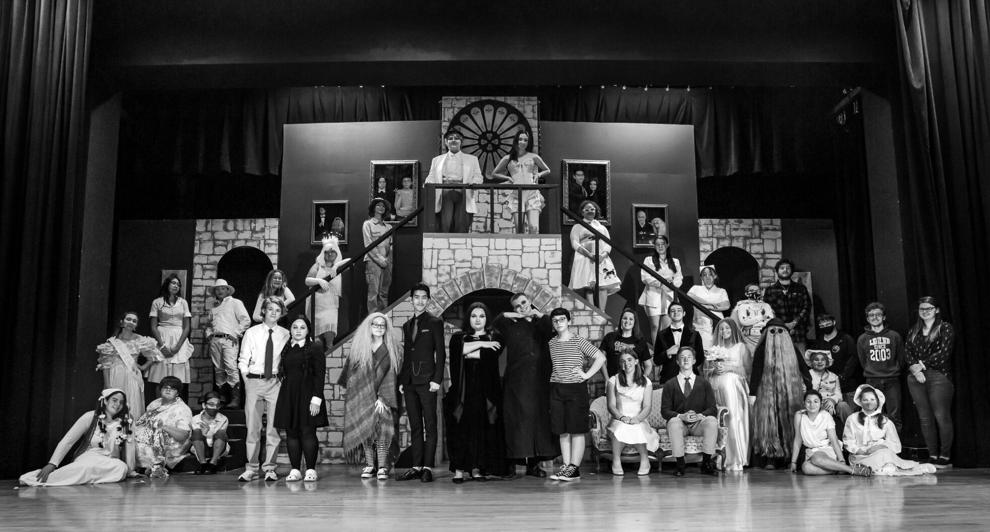 Other productions among the return to the stage around the north country include, but are not limited to:
— Watertown's performance of "The Little Mermaid Jr.," which begins its three-day run on Thursday, April 24
— South Lewis' "Wizard of Oz," which took place this past weekend
— South Jefferson's "Cinderella,"which also took place this past weekend
— Massena Central's "High School Musical," which will take place April 1 and 2
— Thousand Islands Central School's "Nunsense: The Mega Musical," which will take place March 25 and 26
— Lyme Central School's "Aladdin Jr.," which took place March 11 and 12
— Lowville Academy's "Beauty and the Beast," which took place March 10 through 12
— Norwood-Norfolk Central School's "Shrek the Musical," which took place March 10 and 11
— Carthage High School's "The Secret Garden," which took place March 11 and 12