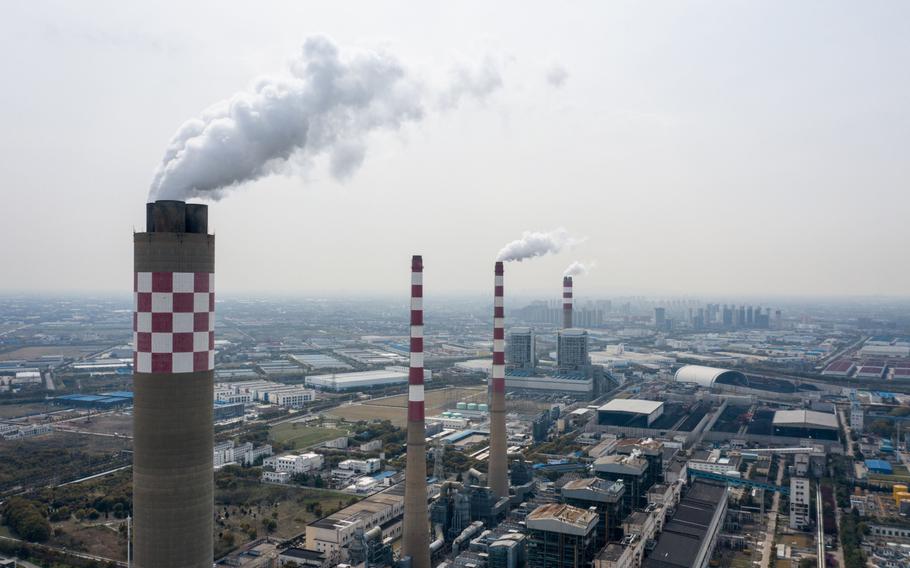 Exhaust rises from the smoke stacks of thermal power plants in this aerial view taken in Changshu, Jiangsu province, China, on March 25, 2020. (Qilai Shen/Bloomberg)
In a surprising announcement in the waning days of the COP26 summit, the world's two biggest emitters – China and the United States – said they would work together to slow warming over this decade and ensure that the Glasgow climate conference is a becomes success.
In announcing the "Declaration for Enhanced Climate Action in the 2020s," China's special climate envoy Xie Zhenhua said the two countries would reiterate the Paris temperature target of limiting warming to well below 2 degrees Celsius, with a target of no more than 1.5 degrees.
With just days to come to a COP26 deal, he said the countries were focusing on developing transparency regulations for reporting and tracking emissions and developing rules for a carbon market.
"Both sides recognize that there is a gap between current efforts and the goals of the Paris Agreement," Xie said at a news conference Wednesday evening.
As the world's two superpowers, he continued, the US and China have a special obligation to work together to keep the world peaceful.
"We have to think big and be responsible," he said. "We need to actively tackle climate change and work together to bring greater benefit to our two peoples and to people around the world."
The surprise statement spurred the talks that are still on the brink of reaching no deal. Chinese President Xi Jinping refused to travel to Glasgow, a blow to ambitions to strike a far-reaching deal to reduce greenhouse gases and avert disastrous global warming, as China is the world's largest emitter.
And after more than 10 days of talks so far, China has not had a large public presence at the conference, unlike other high-emission countries such as India and Brazil. Their officials have had high-profile speaking engagements and are easily seen in the roving national pavilions in the conference's exhibit space.
In his press conference Wednesday, Xie broadly outlined several new climate measures from China that tie in with last week's announcements by other countries: cutting deforestation, cutting methane emissions.
Xie said diplomats from China and the US met in person and virtually and reached an agreement after more than two dozen negotiating sessions on Wednesday afternoon.