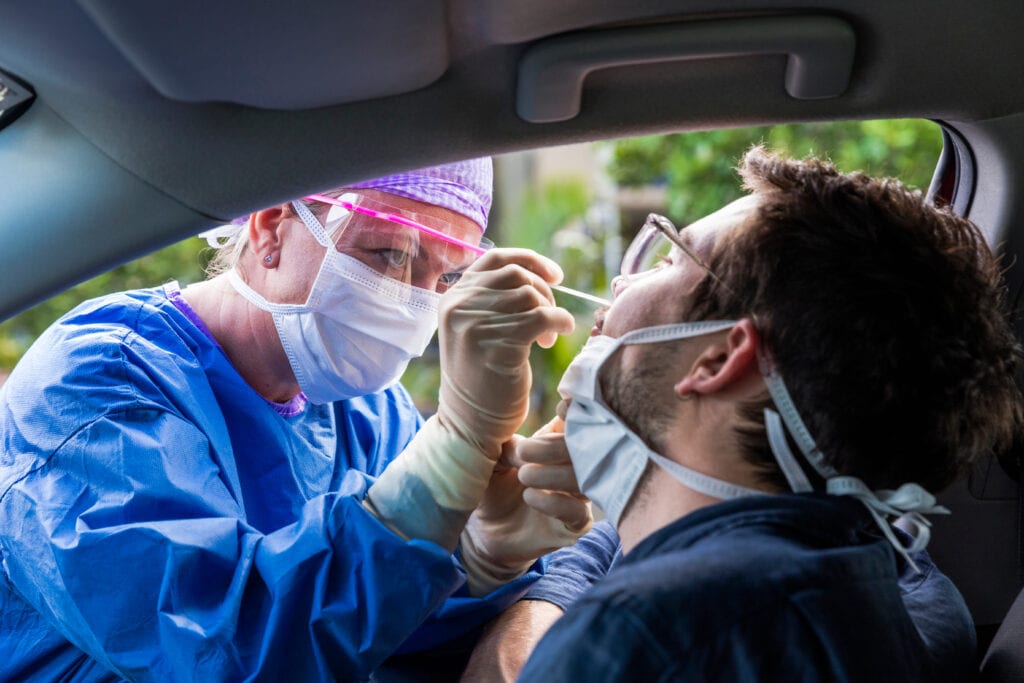 CASPER, Wyo.- The Wyoming Department of Health (WDH) reported 143 new confirmed COVID-19 cases in the state during its Tuesday, Nov. 9 update at 3 p.m.
There are now 84,644 confirmed cases in Wyoming since the start of the pandemic. Tuesday also added 154 possible cases, bringing the total to 21,643.
There are 1,641 active confirmed cases in the state, 93 fewer than on Monday. Wyoming has added an average of 218.2 new confirmed cases per day over the past 14 days.
On Tuesday, 18 new lab-confirmed cases were reported in Natrona County, bringing the pandemic's total to 9,720. The number of probable cases has increased by 76 to 5,758 in total.
On Tuesday, an additional 55 COVID-19-related deaths were reported among Wyoming residents. There are 1,298 COVID-19-related deaths among Wyoming residents. These are deaths "where COVID-19 is listed as the underlying or primary cause of death or as a contributing cause of death," explains the WDH.
Hospital admission data for Tuesday had not yet been updated at 3 p.m. COVID-19 hospitalizations rose to 172 on Monday, from 163 on Sunday. The number of hospital admissions remains below the pandemic record of 249 on October 21.
The number of COVID-19 cases identified as variant cases stands at 5,620. Several cases involve a mutated form of the virus, and some can spread more easily or result in more serious illness.
The WDH says its variant dashboard may be underestimating the number of variant cases in Wyoming: "Not all positive tests are sequenced to identify which variant of COVID-19 caused disease."
There are 81,988 recoveries from lab-confirmed cases, as well as 20,587 recoveries from probable cases, the WDH reports.
"A lab-confirmed or probable case is defined as recovered when fever has resolved without the use of fever-reducing medications and there has been improvement in respiratory symptoms (e.g., cough, shortness of breath) within 24 hours AND at least 10 days have passed. since the symptoms first appeared," the WDH says. "Cases with laboratory-confirmed COVID-19 who have had no symptoms are considered recovered when at least 10 days have passed since the date of their first positive test and who have not had subsequent illness, provided they remain asymptomatic."
WDH Public Information Officer Kim Deti explained that the department marks people as recovered once the date of their isolation order has passed. People who test positive are asked to remain in isolation for 10 days after their first symptoms, 10 days after their test is taken, or longer if they are still showing symptoms.
If people need to be isolated for longer than their initial isolation period, they can contact the WDH, who can extend their isolation order. Deti said that in some cases, contact tracing indicates whether a case is considered recovered, while in others the department considers someone recovered after their isolation period has ended.
County-specific COVID-19 information is available from the Wyoming Department of Health. Confirmed cases by province are as follows (probable cases in parentheses):
Albania: 5,540 (935)
Great Horn: 1,665 (410)
Campbell: 8,027 (897)
Carbon: 2,624 (337)
Reverse: 886 (1,371)
Crook: 732 (210)
Fremont: 7,777 (1417)
Goshen: 2,300 (241)
Hot Springs: 653 (229)
Johnson: 842 (412)
Laramie: 12,625 (3,799)
Lincoln: 2,325 (544)
Natrona: 9,720 (5,758)
Niobrara: 182 (235)
Parking: 4,632 (619)
Map: 1,008 (434)
Sheridan: 4,270 (1,324)
Subtitle: 1,099 (310)
Freshwater: 7,029 (710)
Teton: 5,157 (124)
Total: 3,399 (526)
Washakie: 1,275 (516)
Weston: 877 (285)
---
The Wyoming Department of Health provides online COVID-19 data on cases, variants, deaths, testing, hospitals, and vaccines. The department also shares information about how the data can be interpreted. Safety recommendations for COVID-19 are available from the CDC.
Related stories from Oil City News: